It's about time – McDonald's announced it will no longer use polystyrene packaging – known as Styrofoam – for beverages and will use paper cups instead.
The change applies to all 14,000 US restaurants and is a result of a shareholder resolution proposed by As You Sow in 2011.
The resolution begins by saying: "Whereas McDonald's Corp. has repeatedly emphasized its commitment to environmental leadership, yet continues to use polystyrene-based beverage cups 20 years after phasing out use of polystyrene-based clamshell food containers due to its negative environmental impact …".
The resolution asked McDonald's to re-evaluate its use of foam cups and to develop a recycling policy similar to Starbucks (committed to recycle all paper beverage cups left in its stores by 2015 and gives a discount for bringing your own cup). 30% of shareholders voted yes on the proposal – a strong vote for an environmental proposal and the highest vote to date for any As You Sow proposal on recycling.
Last year, McDonald's piloted the use of a double-walled paper hot cop (like that used at Starbucks), which will now become standard.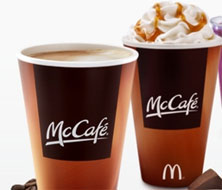 Decades ago, there was a strong move across towns and cities to ban Styrofoam. Seattle, Portland, OR., and 46 counties and cities, including San Francisco, in California have restricted or banned it. NYC's Mayor Bloomberg proposed a ban this year. Restaurants object strongly to bans because the packaging is so cheap and sweats less than paper.
Back in 1990, during the time when styrofoam bans were big news, McDonald's stopped using it for clamshells, but continued its use for beverages. The switch to post-consumer paper – also used for bags and napkins – made the company one of the biggest buyers of recycled fiber, an important contribution to the nascent recycling industry at the time.